Posted on 01/02/2020

With over 4.2 million people flocking to Rome's tourist attractions each year, escaping The Eternal City's crowds is no easy feat. From magic doors to a giant pyramid, we've discovered seven hidden gems in Rome that will whisk you off the beaten path. Ssh don't tell anyone…
1. Michelangelo's Moses
Forget David, it's all about Moses. Dating from 1513 – 1515, Moses by Michelangelo is an understated masterpiece. At eight feet high, the sculpture was intended to be part of a grander two-storey tomb for Pope Julius II. However, Michelangelo had to compromise with a scaled-down version due to pausing work to paint the ceiling of the Sistine Chapel – no big deal! Look out for the horns, a mistranslation of the Hebrew word describing rays of light shining from Moses' head.
Where can I find one of these hidden gems in Rome? Located at Tomb of Pope Julius II in San Pietro in Vincoli.
2. The Vatican after-hours
Sure the Vatican is no hidden gem, but imagine being able to stay behind after 6:00 PM when the doors have closed to the public. Picture yourself dining alfresco in the tranquil Cortile del Giardino Quadrato (Courtyard of the Square Garden) under a dusky sky, with spectacular views of the cupola of St Peter's Basilica and a mouth-watering plate of Italian food in front of you. Now that's something most tourists in Rome never see.
Experience this for yourself on Trafalgar's Contrasts of Italy or Rome Explorer.
3. Piccola Londra
Get ready to fall in love with the Notting Hill-esque homes of Piccola Londra quicker than Julia Roberts and Hugh Grant. Piccola Londra or Little London, was built in the early 1900s as part of Rome's ambitious plan to become a modern European capital. The houses were designed by architect Quadrio Pirani in a very "un-Roman" style: a row of small, independent houses with stairs leading up to the front door and gardens in the back. Exactly like some of the houses you might find in London. The style never stretched further than this one small street, so it's worth a peek.
Where can I find one of these hidden gems in Rome? Located on Via Bernardo Celentano, directly off of Via Flaminia.
Photo credit – @ellebi1072 on Instagram
4. Undiscovered art at Rome's Quadraro
The city of Rome is synonymous with awe-inspiring art. Yet, with the works of Leonardo da Vinci and Michelangelo surrounded by hordes of people, gazing uninterrupted at street art makes for a refreshing change. Head off the beaten path and into Rome's Quadraro neighbourhood, home to the street art project "MURo" or Museum of Urban Art of Rome. Spend the afternoon admiring some of the best murals in the city with a local pastry in hand.
You might also like – 10 ways to travel Italy like a local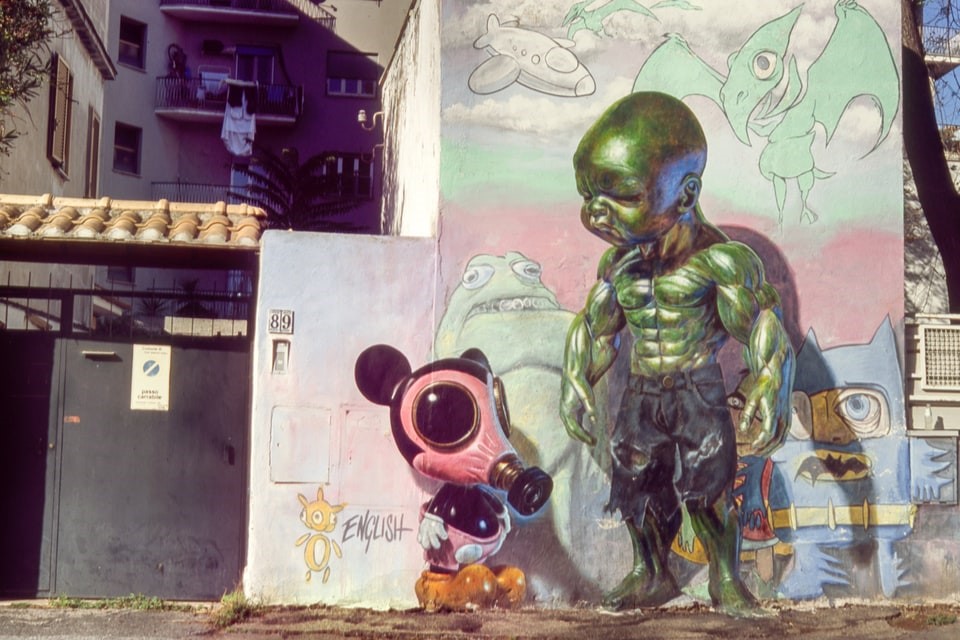 5. Rome's magic door
Well known to many Romans but often missed by tourists, the Magic Door or Porta Alchemica is a gateway into the secretive world of 1600s alchemy. It's the only one of five remaining doors to marquis Massimiliano Palombara's original villa. Legend has it that Massimiliano met an alchemist claiming he could use a certain herb to turn metal to gold. The following day the alchemist had vanished leaving behind gold flakes and the "recipe" for his transformation. Massimiliano was unable to read the recipe so inscribed it on his doors, in the hope that someone who could understand it would come knocking. Think you can crack the code? Try your luck and go home a millionaire or at the very least, with a cool photo.
Where can I find one of these hidden gems in Rome? Near Piazza Vittorio.
6. The Aventine Keyhole
From the exterior it's an unsuspecting big green door, on closer inspection one of the most unique views of St. Peter's dome in the city. Peep through the Aventine keyhole and you'll see the Vatican perfectly framed by an immaculate row of hedges – it's too good to be by accident! The door leads to the Piazza Knights of Malta, the piazza is not actually "Italy" as it holds extraterritorial status. So, technically you're looking at two separate nation-states in one country. Coincidence or not, it's our favourite view in Rome.
Top tip: visit at night for a beautiful twinkling vista.
7. Rome's ancient pyramid
Ah Rome, home to grand amphitheatres, elaborate churches and… a pyramid? That's right, a pyramid. The Pyramid of Cestius is definitely one of Rome's more unusual sights. Built as a tomb for Gaius Cestius, little is known about the man once buried here as the tomb was ransacked long ago. But, according to his will the 120 foot pyramid was complete in an impressive 330 days. Jump off the metro at the aptly named station Piramide and marvel at the only "Egyptian" pyramid in Europe.
Where can I find one of these hidden gems in Rome? Near the Porta San Paolo and the Protestant Cemetery.